Zinger is claimed to be the world's lightest electric wheelchair
The Zinger weighs 38 pounds, and folds down to go in a car
For people who are almost entirely unable to walk, a powerful heavy-duty electric wheelchair is sometimes necessary. For folks who simply have limited mobility, however, often all that's needed is a little something to lessen the amount of walking that they have to do. A number of lightweight folding electric wheelchairs have emerged to serve that market. One of the latest, the Zinger, is also reportedly the lightest.
Created by inventor Royce Husted, the Zinger and its 36-volt lithium-ion battery tip the scales at a total of 38 pounds (17 kg). By comparison, similar chairs that show up on a Google search are more in the neighborhood of 45 to 50 lb (20 to 23 kg). Heavier-duty chairs can weigh over 200 lb (91 kg), although they're typically aimed more at full-time, do-everything use.
Husted tells us that there are several factors that contribute to the Zinger's light weight. These include an aluminum frame with nylon joints, a nylon mesh seat, and a single 36-volt, 200-watt motor with no gearing. «Conventional power chairs use two gear motors which alone weigh more than the entire Zinger,» he says. Additionally, that single motor doesn't require as large of a battery.
The chair has a top speed of 6 mph (9.7 km/h), a range of 8 miles (12.9 km), and can handle inclines up to 10 degrees. Also, like many of its competitors, it can be quickly folded up and lifted into the back of an ordinary car.
Most of those other models, however, utilize an armrest-based joystick steering system, while mobility scooters use a set of handlebars. The Zinger instead features two steering levers, one on either side of the seat. The user pushes both levers down to go forward, pulls them both up to brake, and pushes one while pulling the other to turn to either side. Reversing is accomplished simply by pushing with the feet, and a finger trigger controls the speed.
While this setup means that both of the user's arms are occupied, it also lets them pull right up against tables or desks. The chair does come with a basket, plus armrests and other accessories will be available as extras.
Royce informs us that the Zinger is currently in production for the Japanese market, with the first batch of US-bound units due to arrive stateside in October. The price has yet to be determined, but interested parties can email for updates via the link below.
The chair can be seen in use in the following video.
Update (Jan 28, 2014): The Zinger is now available in the US, priced at US$2,095. The company has also confirmed that the Zinger has a reverse function.
Light weight electric wheelchairs
Did you ever suffer from lack of sleep simply just because of your pillow? It does sound absurd but many people actually have this complain. Evening sleep is the most important rest for the body. No other rest can compensate for the benefits that it could give to our body. As you may have probably observed, your body is not as responsive and enthusiastic when you suffered a bad night of rest.
Pillows are one of the causes why people suffer from lack of sleep. Some of them are too firm to provide the body with comfort in the night. On the other hand, some pillows are too soft to support the while a person sleeps. Literally, an ideal pillow should be something that offers maximum comfort while maintaining its ability to support the head, neck and shoulder of a person. It is neither too firm nor too soft which could just lead to neck and shoulder ache and total discomfort at night.
Microbead pillows are often suggested to people who have been suffering from lack of sleep. These squishy pillows are also known to help orthopedic patients feel better in the evening even after surgeries. Further, pillows that are packed with polystyrene globule have helped many people recover from minor pains on their upper torso including the neck and shoulder blades. You might want to check this out to understand how these can spongy head cushions offer such amazing health benefits. You might even better understand why you have to consider obtaining one of them soon.
Buying a wheelchair is more like marrying a person, you are struck with it for life long. They are very expensive and one cannot imagine replacing an existing wheelchair with a new one. But, all that changed now. With the internet revolution, one can easily sell their existing wheelchair and a buy a new one as per their requirement.
Previously, people used to dump their existing unused wheelchairs, as they used to find selling them as a really big challenge. Now that everyone is computer literate, it is really easy to get rid of unused wheelchairs and one can find millions of buyers online. The first site that clicks in every person's head when they think of buying or selling of used things is craigslist. Craigslist Electric Wheelchairs are sold in greater number than any other used goods site. Craigslist is easy to navigate and is very simple to understand for any layman.
If anybody wants to sell their electric wheelchair that has been used for a really long time or has been lying untouched for a while, or is of no use to anybody, should go online register themselves on the sites like craigslist, ebay etc., One would be surprised at the responses they would receive. As the electric wheelchairs are very expensive, people prefer to purchase used ones rather than an expensive brand new one. Also, the online sites provide all the information that is needed for a buyer, before purchasing the wheelchair. Like, the site provides them with the pictures they need, the description, how many number of years the wheelchair has been used, the reason for the sale etc., The buyers don't have to see the wheelchair physically to understand its performance. Because of all this, the number of sales of used wheelchairs has gone up lot in recent years.
Adding Accessories To Wheelchairs
George is 65 years old and has been using wheelchair for almost 4 years now. He has become practically immobile without it. He stays alone. His children visit him once in a while but most of the time he is alone, keeps himself busy with some or the other kind of work. George loves to stay outdoors. Whenever he gets a chance, he sneaks out into the nearby woods.
Now that he is getting older, George realizes that he is not able to carry all the items along with his wheelchair. At the same time, he is not in a position to afford a new wheelchair with lots of new functions. So, George decided to do his own research about how can he improve his existing wheelchair. He visited many sites that sell wheelchairs and in one of those he came across a site which is providing any kind of extensions or accessories need for existing wheelchairs. George did further research and realized that all those accessories are at a very reasonable price and at the same time they will add lot of comfort for his existing wheelchair.
George thought of the things that are needed for his wheelchair. The first thing, that popped in his mind was a wheelchair umbrella holder, through this, he doesn't have to hold his umbrella all the time he is out and also, doesn't have to worry about losing umbrella somewhere. Then, he realized, he needed a wheelchair leg extension. This will give him the extra support, that he is finding missing in his existing wheelchair. He placed order for both the objects and looked forward to receive them. He received them fast. He got his products along with easy instructions. George found them to fix in his wheelchair and found that his wheelchair transformed. Now, George finds his existing wheelchair with the new accessories much more comfortable and do not look for buying a new one.
As the healthcare industry for the elderly and handicapped is facing a revolution with the increased usage of more automated devices to replace humans in providing aids, there is a new set of demand for the healthcare workers. Now, besides the theory lessons which they have to go through to understand the different sorts of physical disability and how to manage them, they also have to attend courses on how to operate the wide range of mobility aids that they will use in the future. No matter you are working in the hospital, aged homes or as a domestic caregiver, you will find the assistive devices everywhere. This is also partly due to the cheaper cost of acquiring these equipments which made it easier for mass market consumers to buy them now for their home use. These equipments include the electric wheelchairs, stairlifts, floor lifts, ceiling lifts, bath lift and vehicle lift etc.Each of these lifts serves a particular niche requirement of the end user and you will have to learn that. Normally, the first device you will have to learn will be the stairlift which is important for domestic workers. The stairlift is installed between two floors of a house as it helps to facilitate the movements on the staircase. Some of the stairlift parts which you should know are the batteries, seats, motors and the tracks etc. It is also your duty to maintain the stairlift in operating conditions and identifying when to replace stairlift parts.
There are also stairlifts which are capable of lifting wheelchairs instead of just the users. These are called platform stairlifts. As the name implies, there is a platform where the wheelchair can be rolled onto and be transported. Since the lift have to carry wheelchairs, the battery will be of larger capacity and the motors more powerful. It can carry weights of up to 400 pounds. Even the most heavy wheelchairs like the Quickie Power wheelchair will not be an issue for the platform stairlift.
Accessories for lightweight wheelchairs
Lightweight wheelchairs operates just like any other manual or electric wheelchairs. They can even share the same wheelchair accessories. In fact the accessories can be used interchangeably when you switch from your home wheelchairs to the lightweight one used for outdoors. Almost all the wheelchair add on parts help to improve the lives of the wheelchair users one way or another. More importantly, they come at an affordable prices ranging from as low as $5 to around $100. You can get a whole suite of accessories to transform the wheelchair into the all in one convenient package. These attachments are universal and brand neutral, be it Permobil or Quickie wheelchairs, they all can share the equipments. You need not worry when changing wheelchairs.
Most accessories are suitable for lightweight wheelchairs, however, there are some that requires special attention so as not to compromise the user experience. An example is the wheelchair umbrella holder which, as the name implies, hold aloft the umbrella for the user during sunny or raining days. As lightweight wheelchairs move faster than the usual manual wheelchairs, the vibrations felt by the wheelchairs will be greater. As a result, the attachments to the wheelchair may drop out easily. For wheelchair umbrella holder, you are advised to get one with stronger clamp on to the wheelchair frame. The last thing you want is to have the umbrella falling on your head when you are moving around.
Light Weight Electric Mobility Wheelchair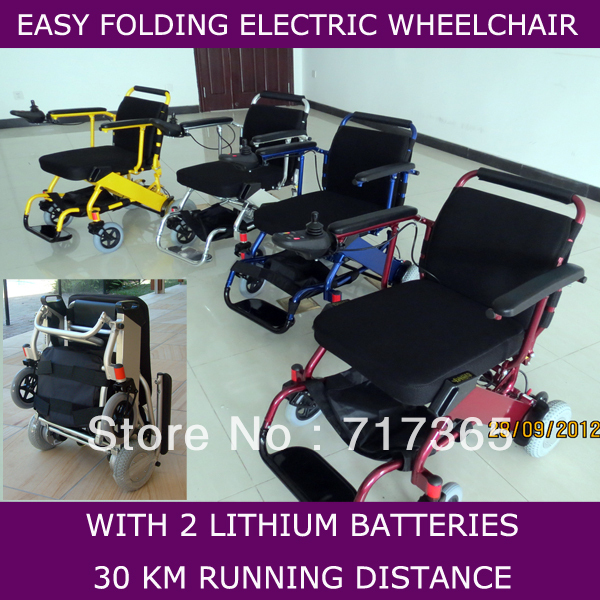 2) Weighs only 15 kg or 33 lbs without Batteries — ( Cruiser Model with Batteries weights 20 kg or 44 lbs) ( Pro model weights 17.5 — 18 kg or 38 — 39 lbs ) Easy to lift in and out of a car
3) Carries you at jogging speed for 15-18 KM or 9 — 11 miles on a single 5 Hr charge — Pro Model or ( over 18 miles with the Cruiser Model )
4) Can carry a child or adult up to ( 286 lbs ) with ease
5) Complies with Aircraft Carry-On luggage rules for all airlines
7) Tiny turn radius gets into tight spaces
Tiny-Turn Radius for tight corners
Fixed armrest and fixed footrest, folding foot board,
* 7″ shock absorbing front casters
Adjustable back belt
Detachable back and seat cushion
Washable seat cushion cover.
The chair folds up within 5 seconds.
Ultra light, Only 15 kg or 33 lbs without the Batteries ( Cruiser Model is 44 lbs with Batteries ) ( Pro Model is 38 -39 lbs with Battery )
Powered by ENVIRO FRIENDLY 10amp Lithium Ion Phosphate Battery (60% lighter than Lead acid battery)
Easily stored Upright & Folded
Adjustable length Joystick
Easy to disassemble for transportation
Battery lasts 15km or a little over 9 miles on a 5 Hour Charge ( Pro model ) ( Cruiser Model will travel over 18 miles on a singles charge )
Comes fully assembled
Easily fits in a back seat or car trunk
3 year factory warranty
Off-road capacity like mobility scooter
Seat Width: 400mm, Height: 490mm or 15.7″ X 19.2″
Backrest Height: 365mm or 14.3″
Weight Capacity: 130kgs or 286 lbs
Rear Wheel: 8″ x 5 width caster
Motor: 150W, Battery: 24V8AH or 2 — 150w Batteries for the Cruiser or one 150 watt Battery for the Pro
Max speed: 7.8kmph or about 4.8 MPH
Max Gradient: 12degrees
Charging period: 5 hours
Endurance: 15km or about 9.3 miles
Overall size: 795x570x840mm 31.29″ X 22.4″ X 33.0″
Folded size: 570x290x690mm 22.4″ X 11.4″ X 27.1″
Carton Size: 620x330x760 mm 24.4″ X 12.99″ X 29.9″
lightweight electric wheelchairs foldin #JL138 – 400W Folding Lightweight Electric Wheelchair With Multi-Function
» Lightweight & foldable aluminium frame with attractive blue powder coated finish
» 8" PU front casters
» 12″ PU rear wheels with pneumatic tires
» Swing-away to select the manual drive or power drive
» Drop back handles for companion to push the wheelchair when the battery runs out.
» Detachable & padded armrests
» Detachable & swing-away footrests with high strength PE flip up footplates
» The seat and backrest have comfortable cushion that can be detached for easy cleaning & replacing
» Padded nylon upholstery is durable and easy to clean
» PG controller can control the traveling & direction easily and intelligently
#JL138 – 400W Folding Lightweight Electric Wheelchair With Multi-Function
#JL138 is a model of electric wheelchair by JIANLIAN that is foldable & lightweight to make a great solution for the users who are looking for a portable & multi-functional electric wheelchair. It comes with durable aluminium frame with blue powder coated finish that looks attractive. The seat and backrest have comfortable cushion that can be detached for easy cleaning & replacing. Has a programmable & integrated PG controller that can control the traveling & direction easily and intelligently. Offers drop back handles for companion to push the wheelchair when the battery runs out. Features detachable armrests. It has swing away & detachable footrests. The soft & padded upholstery is made of high quality nylon that is durable and comfortable, 8″ PU front casters & 12" PU drive wheels with pneumatic tires provide a smooth & safe ride.
» Lightweight & foldable aluminium frame with attractive blue powder coated finish
» 8" PU front casters
» 12″ PU rear wheels with pneumatic tires
» Swing-away to select the manual drive or power drive
» Drop back handles for companion to push the wheelchair when the battery runs out.
» Detachable & padded armrests
» Detachable & swing-away footrests with high strength PE flip up footplates
» The seat and backrest have comfortable cushion that can be detached for easy cleaning & replacing
» Padded nylon upholstery is durable and easy to clean
» PG controller can control the traveling & direction easily and intelligently